In Star Wars Jedi: Survivor, are you trying to choose the best song to play at Pyloon's Saloon? This list will be useful.
In the game Star Wars Jedi: Survivor, Pyloon's Saloon is a pub on the planet Koboh. At the beginning of the game, the saloon is pretty empty, but you, as Cal Kestis, are told to tour the galaxy and bring people you meet back to Pyloon's.
Pyloon's has a piano, but to use it, you have to bring back two characters: Ashe Javi and DD-EC. You will be able to ask DD-EC to play certain tracks once they are regulars at Pyloon's. Songs can be bought at Doma's shop or found in different places around the world.
Fields of Dusk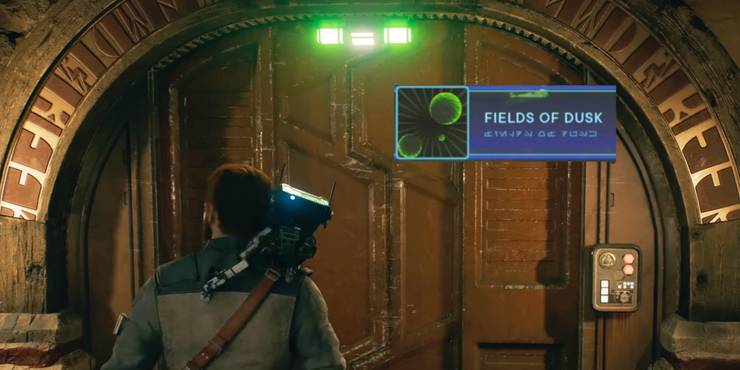 This song is a beautiful ballad, but its darker tone might bring down the mood of the other people at Pyloon's, even though it's beautifully put together and lovely to listen to.
The song starts out quietly and slowly gets louder until it reaches an epic and dramatic peak. It then fades out peacefully. Even though it's not good for dancing, it's a good song to listen to while sitting at a bar and thinking about how much hard work you've put into the game.
Who Mourns For Taris
Who Mourns for Taris is a more upbeat dance track, despite its name. It is one of the songs by the in-world band Yubnib Zekk and the Main Characters (Joywave) that you can listen to. Each of Yubnib Zekk's songs has a voice that sounds like a peasant from Animal Crossing, and of the three, this one is the most laid-back and simple.
The title, of course, refers to the planet Taris, which was destroyed during the Jedi Civil War. If you listen to this song, keep Taris in mind.
Hohochu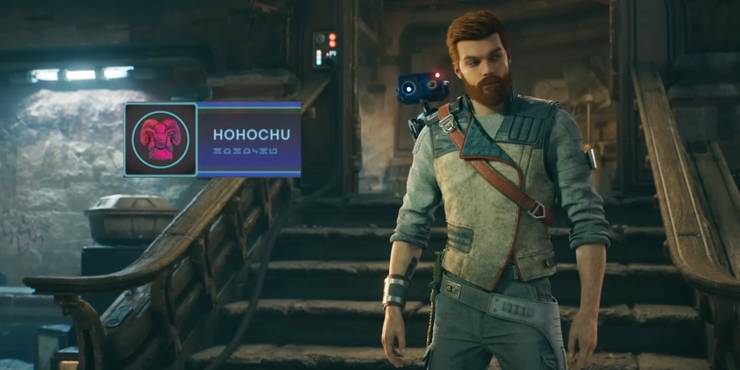 Hohochu is one of three songs that can be played in Pyloon's by the in-world band The Agasar. Hohochu sounds like a rallying battle cry and would be great to put on before going into a boss fight to get yourself pumped up.
The Hu, a Mongolian folk metal band, wrote and performs all of The Agasar's songs (Hohochu, Sugaan Essena, and Eseerin Vasahina) in a language that, according to Wookieepedia, was made for the Star Wars Jedi games.
Zanara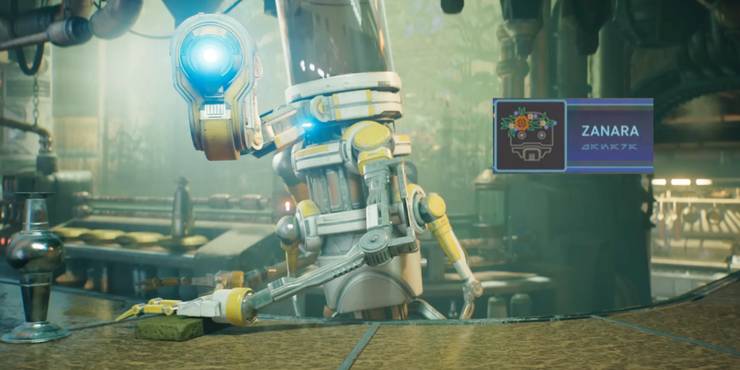 Zanara is a unique song with a complicated, repeating computerised beat that sounds like it could be the beginning of a science fiction show. This makes it the perfect song to play in the background while space heroes like Cal Kestis hang out at Pyloon's.
Zanara is one of the two songs by Mister Mockwell, also known as Kaelin Ellis off of Koboh. You can play the techno sounds of Zanara for any close droids that want to hear something familiar.
Sugaan Essena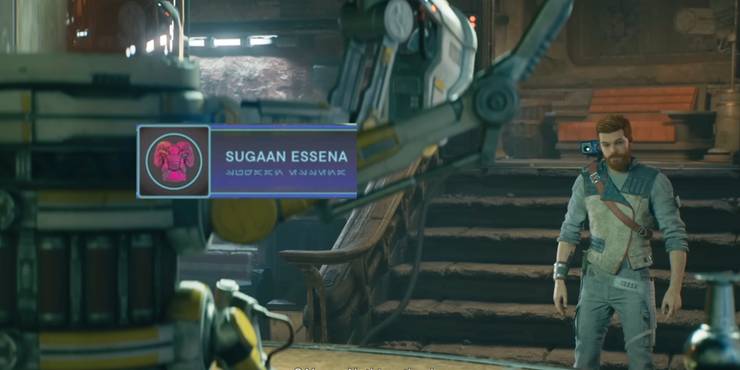 If a part of this song sounds familiar, it's because it was used in the beginning of Star Wars Jedi: Fallen Order, which was the first game in the series. In an interview with Revolver, The Hu say that Sugaan Essena means "The Black Thunder," and they say that they wrote the song about the heart of a fighter, which they see in Cal Kestis.
The second-longest song is Sugaan Essena, which is just over six minutes long. It has a lot of loud guitar solos and strong screams that are sure to get a lot of warriors pumped up.
Ebon Flow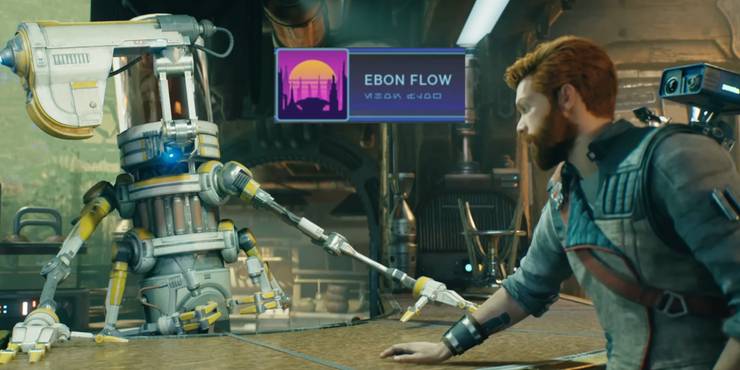 Eden Flow, like the other songs by Yubnib Zekk and the Main Characters, is similar to hyper-pop. It has a more upbeat tone and interesting electronic sounds, along with heavy vocal modulation that makes it hard to tell what Yubnib Zekk is saying and if it's in the same language as The Agasar. Eden Flow is exciting to listen to, even though it doesn't sound like the jazz you can hear at other cantinas in the world.
Rumble Droid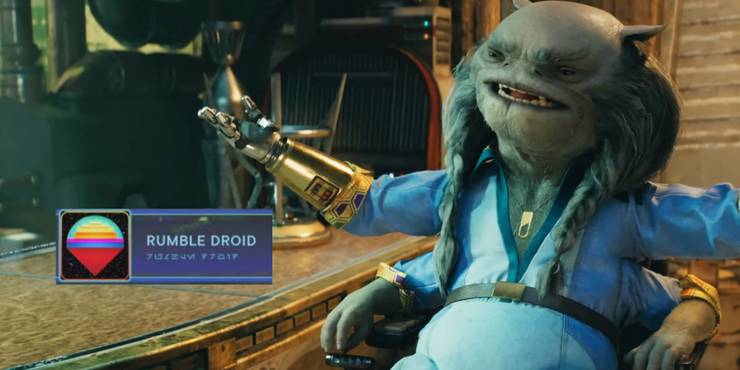 This song starts with a simple bassline beat and a metallic tap that sounds like it's repeating, but it quickly grows into a complex and interesting track with many layers. Rumble Droid is by Altin Lazer Blaster, a Turkish psychedelic rock band. At just under three minutes, it may be the fastest song you can listen to.
Even though Rumble Droid is short, it is still a complicated song, and each time you listen to it, you'll find something new and interesting about its sound. Watch out for the noises that sound like lasers being fired, which seems to be their signature sound.
Eseerin Vasahina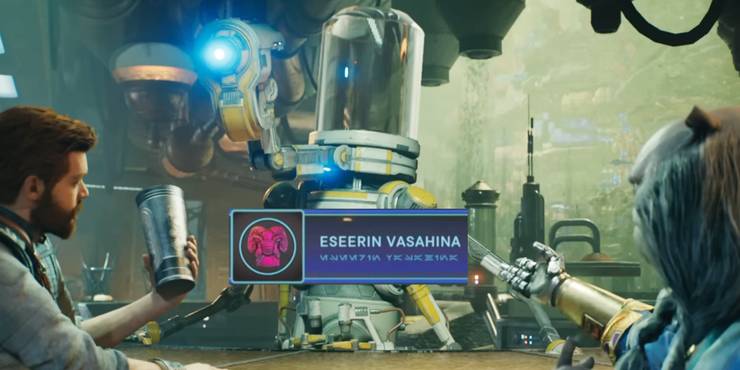 There's always that one famous song that, when it comes on at the bar, gets everyone dancing and singing together. It sounds like Eseerin Vasahina could be that song for Pyloon's.
Eseerin Vasahina has a loud, roaring, and repeating chant that makes it easy for even new customers to quickly learn to sing along. It sounds like a song and has a good, steady beat that makes you want to stomp your feet. There is also a lovely musical break in the middle of the song.
Sublime Raid II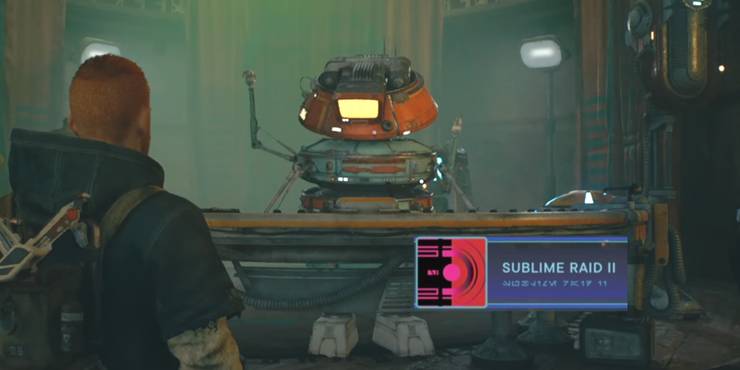 If the strong beats of Eseerin Vasahina or the unmistakable flow of Eden Flow have worn you out, Sublime Raid II is a good choice for relaxing at the bar.
Its soft tones and icy-dripping echos can make you feel calm, like you're on the fields of Hoth. Even though it's not as fast-paced as some of the other tracks, it still has the same electronic feel that most of the other songs at Pyloon's have.
Meet Me at the Sabacc Table
Meet Me at the Saba starts off with notes that sound like old video game start-up sounds. Yubnib Zekk and the Main Characters' cc Table is another exciting and multi-layered song.
This song has a lot of energy and changes in sound as it goes on, which makes it the perfect song to play when you're actually playing Sabacc. You can't play a round in Slope Game, but you can listen to this song about it.
Spiceman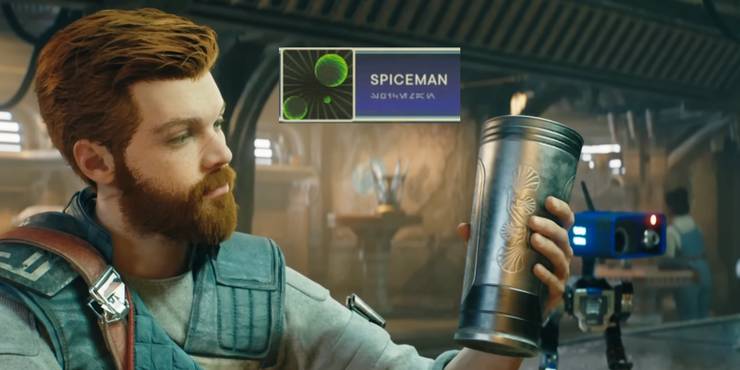 Spiceman by NAAARTAAAT (TATRE) is the longest song you can play at Pyloon's. It lasts seven minutes and makes good use of its length. Spiceman has the most different sounds and sounds that change in interesting ways as the song goes on.
Spiceman ends with a big, almost movie-like scene, and then it quickly fades out. Overall, the trip you can take by listening to Spiceman is one of the most exciting parts of the game.