In Stardew Valley, you have to cook, but some of the recipes are more useful than others.
In Stardew Valley, cooking isn't just something people do for fun; it's also a feature that can be used in different ways. Even though cooking doesn't have levels in the game like other skills do, players will unlock more recipes as they play and get better at other skills or with their friends.
If the player's health goes down when they're in the mines or if their energy goes down when they're mining or working on the farm, they can quickly get it back by eating a meal or a snack. Some foods also give boosts that can make you more efficient and help you fight monsters better. So, out of the eighty meals in Stardew Valley, which ones are the best?
Farmer's Lunch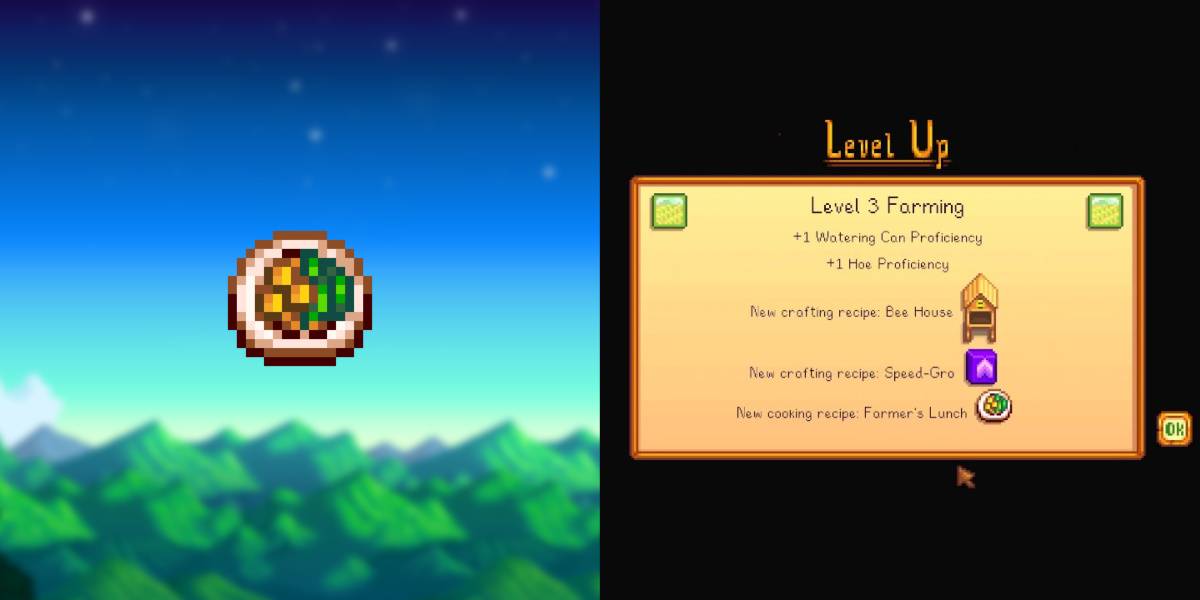 Ingredients:
1 Omelet (made with 1 Egg & 1 Milk)
1 Parsnip
When a player gets to Farming Level 3, Farmer's Lunch becomes available. It gives a +3 boost to Farming for 5 minutes and 35 seconds. It also gives you 200 Energy points and 90 Health points. Farmer's Lunch is one of the easiest early meals to make, since parsnips are one of the quickest-growing crops in the game.
The Farmer's Lunch dish sometimes shows up on Saturdays at Krobus' shop, and it might also be in a treasure box in the Skull Cavern. It is a great recipe for players to have on hand because it is good at restoring health and energy.
Seafoam Pudding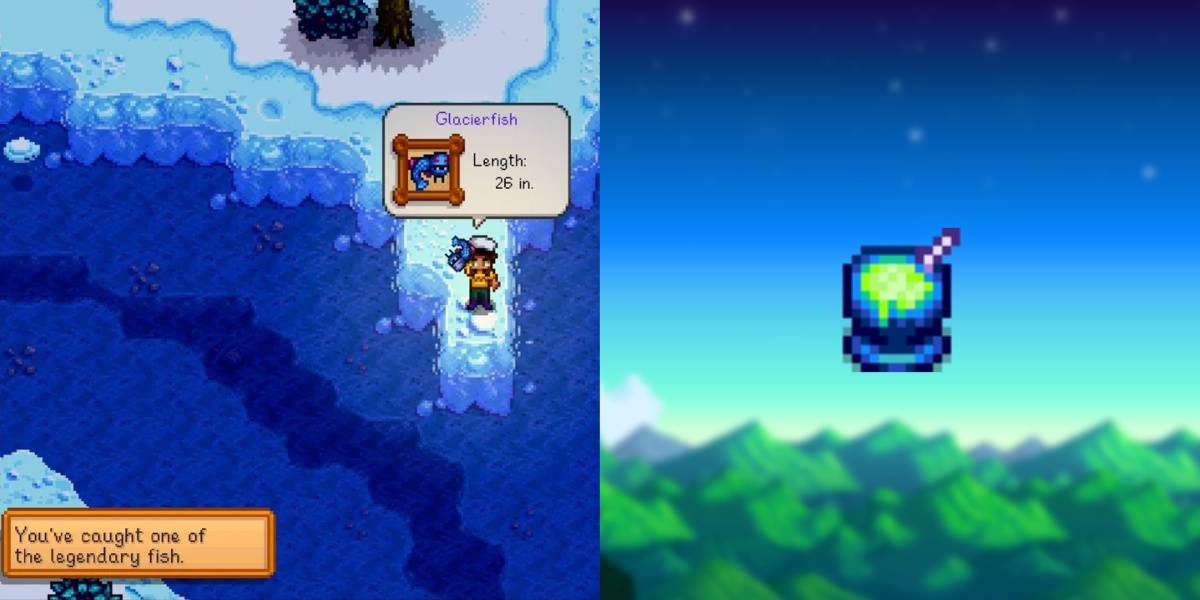 Ingredients:
1 Flounder
1 Midnight Carp
1 Squid Ink
This method, which is unlocked at Fishing Level 9, is one of the best to learn if you want to get really good at fishing. Seafoam Pudding gives +3 Fishing for 3 minutes and 30 seconds, which is very helpful for high-level players who are trying to catch fish that are hard to catch. This dish also heals 175 Health points and 78 Energy points.
Once a year, you can buy Seafoam Pudding from the shop at the Dance of the Moonlight Jellies for 5000g. It will also sometimes be sold at the Travelling Cart for anywhere from 900g to 1500g.
Survival Burger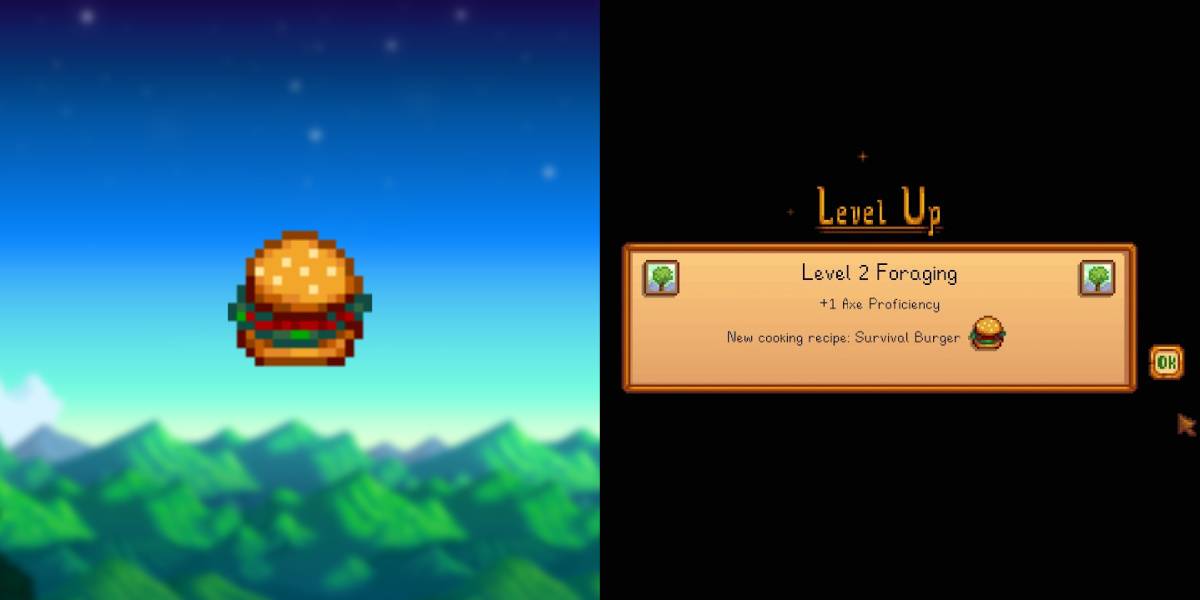 Ingredients:
1 Bread (made with 1 Wheat Flour)
1 Cave Carrot
1 Eggplant
The Survival Burger gives a +3 boost to Foraging for 5 minutes and 35 seconds. This makes it a great food to have on hand when players are gathering supplies for their fields. It not only gives players 125 Energy and 56 Health points, but it also makes them better at using an axe.
The Survival Burger can be found in a few places in the game, and players can get it when they hit Level 2 of Foraging. Emily also loves this food, which is good to know if you want to win her over.
Lucky Lunch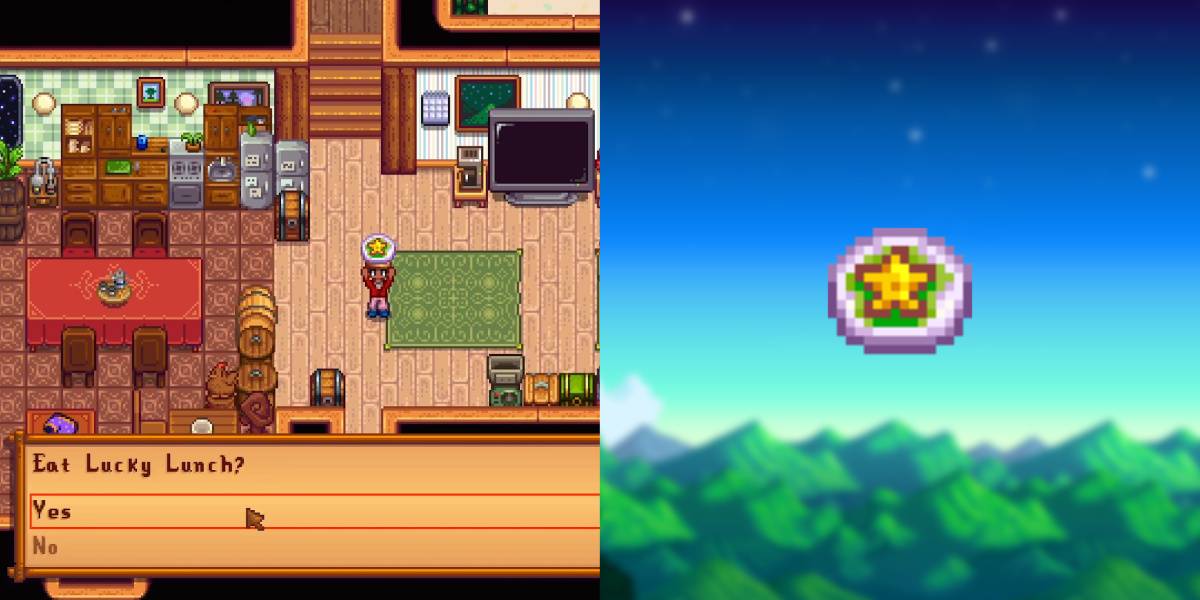 Ingredients:
1 Sea Cucumber
1 Tortilla (made with 1 Corn)
1 Blue Jazz
This lucky food gives you a +3 Luck boost for 11 minutes and 11 seconds. It's a great way to increase your chances of finding rare things in Stardew Valley. It also restores 100 Energy and 45 Health, and it can be stacked with other lucky recipes for more benefits.
Lucky Lunch is another food that can be sold for 250g and make money. It is sometimes sold in some of the shops, and most of the town's people like it. But it's one of those meals that players probably won't want to share.
Roots Platter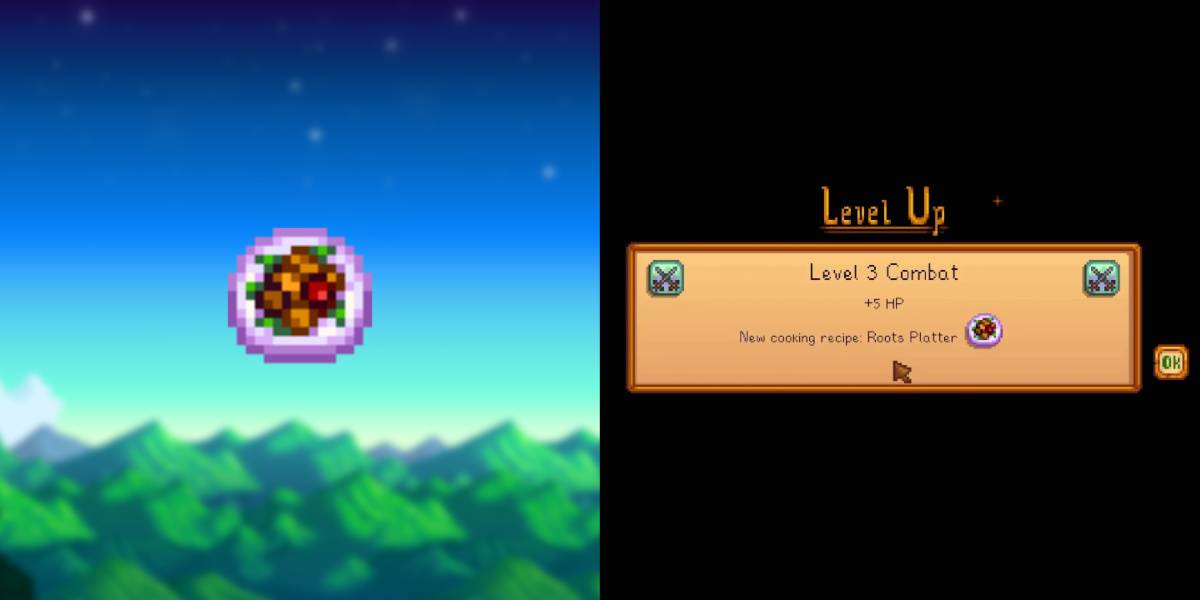 Ingredients:
1 Cave Carrot
1 Winter Root
The Roots Platter gives a +3 Attack increase for 5 minutes and 35 seconds, making it the best recipe in the game for increasing Attack. It also gives the player 125 Energy and 56 Health points, making it a useful dish for those who are having trouble with the game's tough enemies.
When you hit Combat Level 3, you can get the recipe for the Roots Platter, which is sometimes sold in Krobus' shop on Saturdays. This dish is also one of the few that can be sold for 100g, making it one of the few profitable recipes.
Dish O' The Sea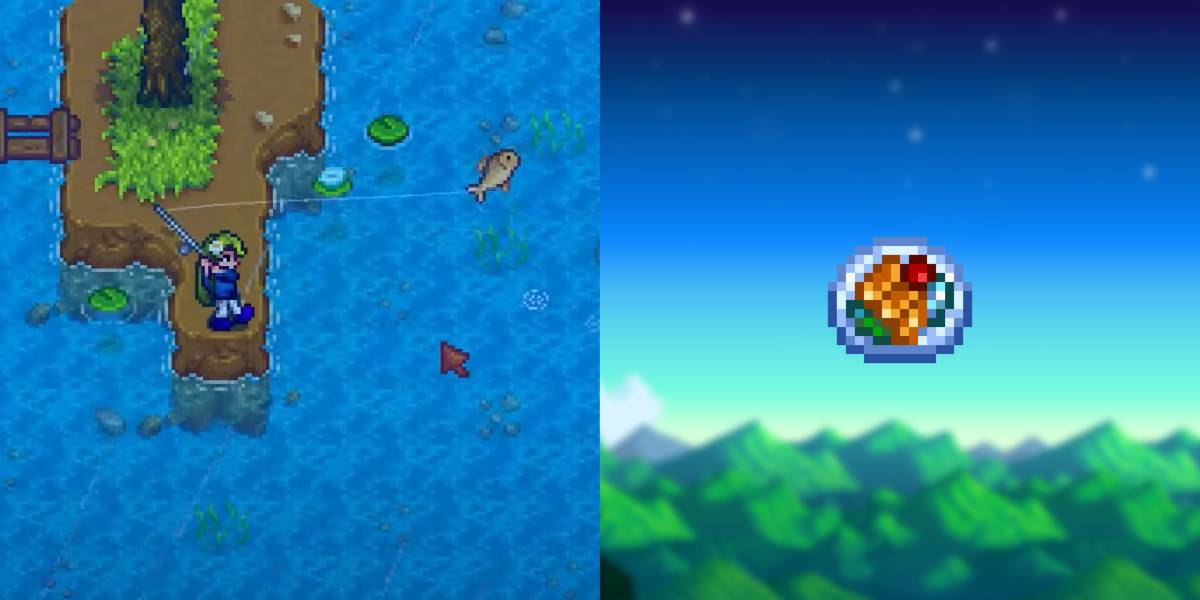 Ingredients:
2 Sardines
1 Hashbrown (made with 1 Potato & 1 Oil)
Dish O' The Sea gives a +3 boost to fishing for 5 minutes and 35 seconds. Players can use it once they have hit Fishing Level 3. Boosts like this one can be used by anyone, no matter what amount of skill they have. So, this simple food is a must-have for people who are going fishing.
Its usefulness, especially at the beginning of the game, comes from the fact that the player can get to it at such a low level. Players also get 125 Energy and 56 Health points from Dish O' The Sea. While the buff is active, players will be able to cast farther and catch bigger fish. The size of the bar will also be bigger.
Eggplant Parmesan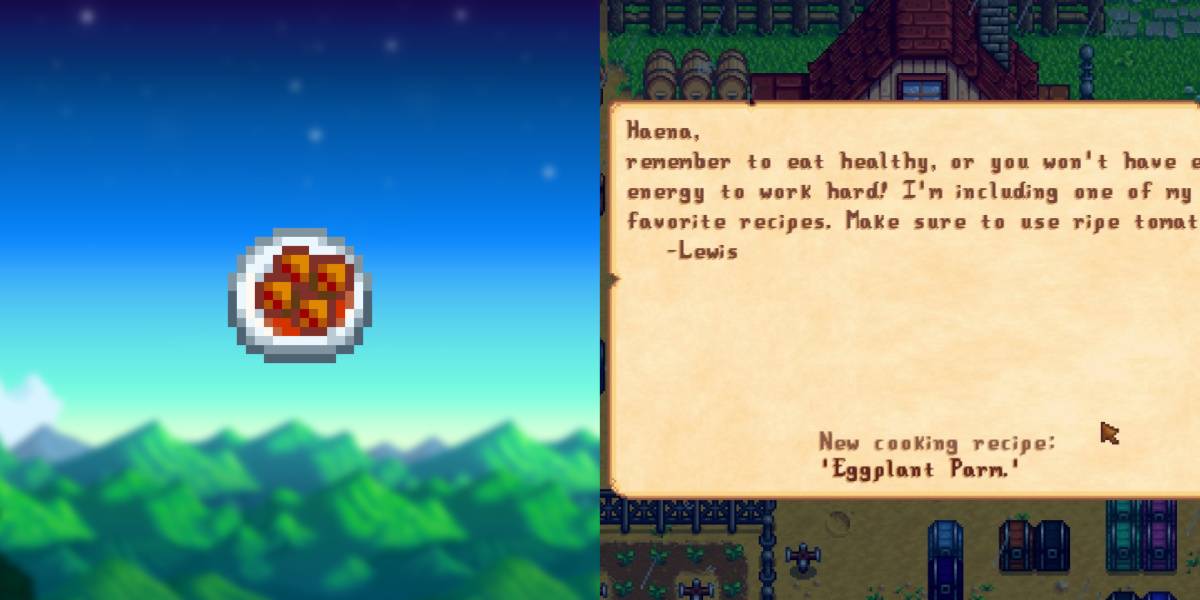 Ingredients:
Eggplant Parmesan is a great food in the game. It is one of the recipes that has more than one buff. It gives a +3 boost to Defence and a +1 boost to Mining for 4 minutes and 39 seconds. This recipe is Jodi's favourite, and you can get it after getting 7 hearts from Mayor Lewis. Players also get 175 Energy and 78 Health points from Eggplant Parmesan.
This food is one of the easiest to cook because it doesn't cost much to make. It's also not too hard to unlock. It's a useful dish to have when digging because it makes it easier to keep enemies away. Also, Eggplant Parmesan, which sells for 200g, is another food that makes money.
Tropical Curry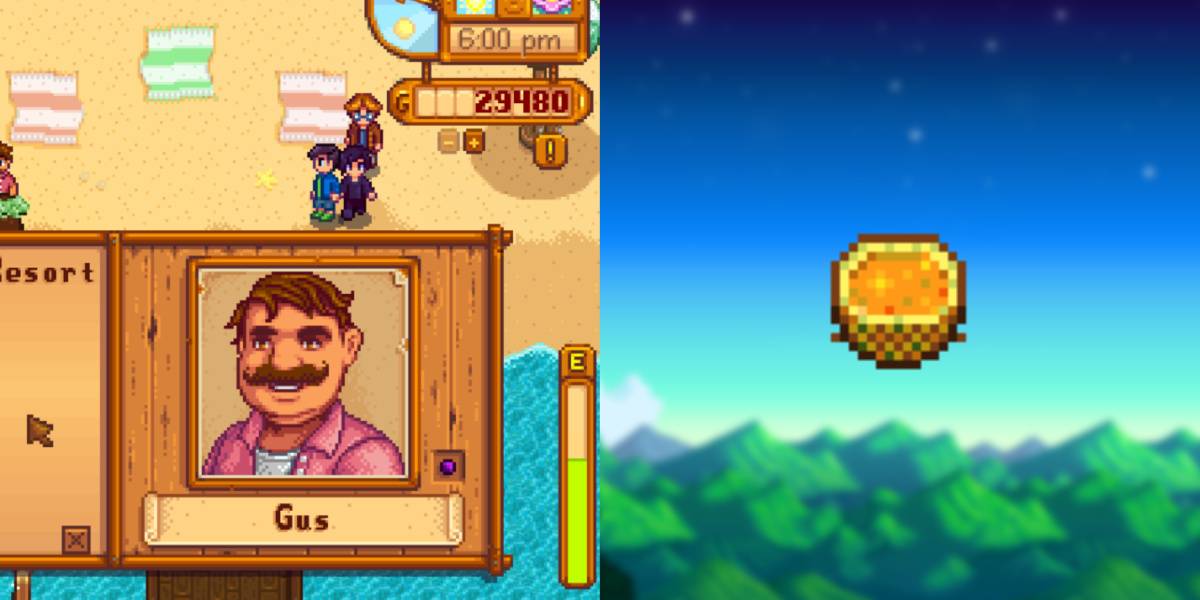 Ingredients:
1 Coconut
1 Pineapple
1 Hot Pepper
Players who like to gather the things they need can also make Tropical Curry. It gives a +4 boost to Foraging for 5 minutes and 1 second and gives 150 Energy and 67 Health points to the player. It helps the Foraging skill so that more berries can be picked from each bush. This is especially useful during Salmonberry and Blackberry season.
Gus at the Ginger Island Beach Resort is the only place where players can get this recipe. It costs 2000g, so players will need to save up if they want to earn it. This dish is also one of Caroline's favourites.
Pumpkin Soup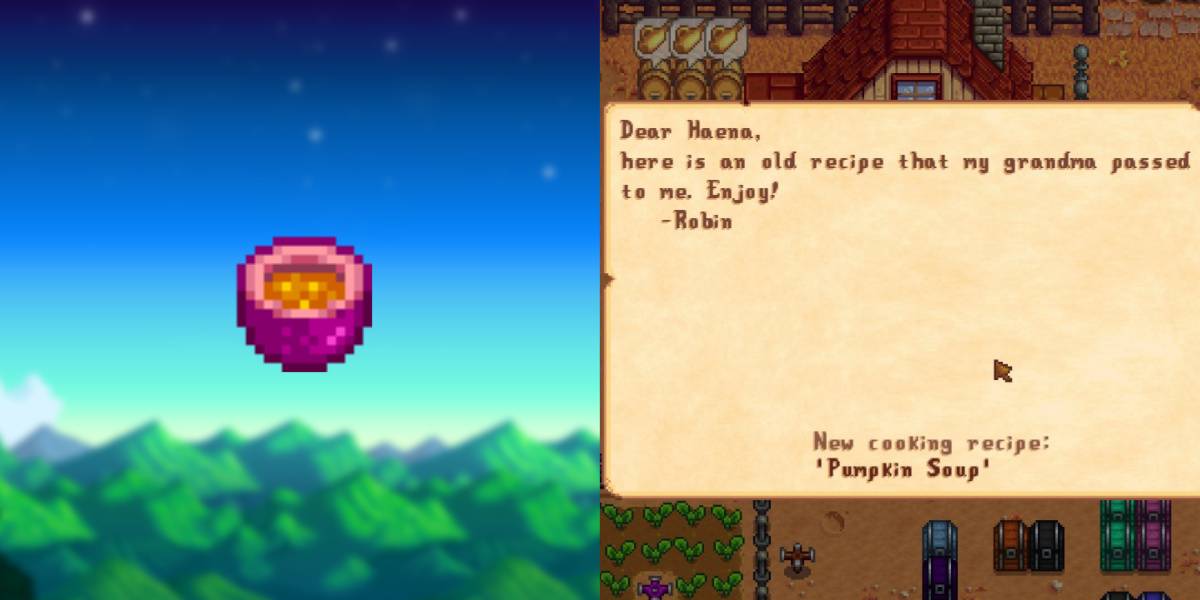 Ingredients:
You can get this holiday soup by getting 7 hearts with Robin. It gives you +2 Luck and +2 Defence for 7 minutes and 41 seconds. Players also get 200 Health and 90 Health points from pumpkin soup. Other dishes are great for helping with real mining, but this one is great for keeping players safe in the mines.
Pumpkin Soup can be bought from a few shops in Spacebar Clicker game, but since its parts are so easy to find, it's better to make it yourself. Those who want to marry Sebastian in the future should make sure to learn this method.
Complete Breakfast
Ingredients:
1 Fried Egg (made with 1 Egg)
1 Milk
1 Hash Brown (made with 1 Potato & 1 Oil)
1 Pancake (made with 1 Egg & 1 Wheat Flour)
The best way to start the day for a player is to eat a Complete Breakfast, which gives them a +2 Farming boost and +50 max energy for 7 minutes. The dish also gives players 200 Energy and 90 Health points, which is great for those who want to grow and pick crops all day.
To get this recipe, players must watch the TV show Queen of the Sauce on the 21st day of spring in their second year. Alex, a local, also likes this dish, so anyone who wants to date him should pay attention.
Crab Cakes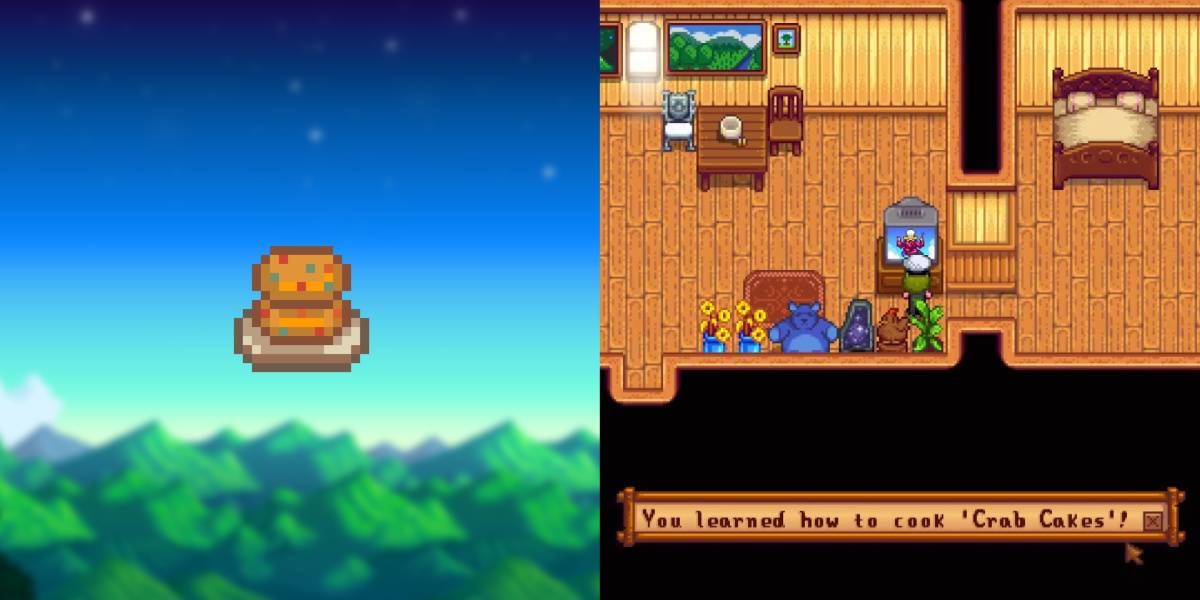 Ingredients:
1 Crab
1 Wheat Flour
1 Egg
1 Oil
Crab Cakes are a great food item for people who want to get through risky places like Skull Carven as quickly as possible. This food gives you a +1 boost to Defence and a +1 boost to Speed for 16 minutes and 47 seconds. Basically, it will last them for the whole day in-game.
When the person is in their second year, on the 21st day of fall, they can watch Queen of the Sauce to get the Crab Cakes recipe. Crab Cakes are a must-have recipe if you want to win over Elliot, one of the older men in the game.
Spicy Eel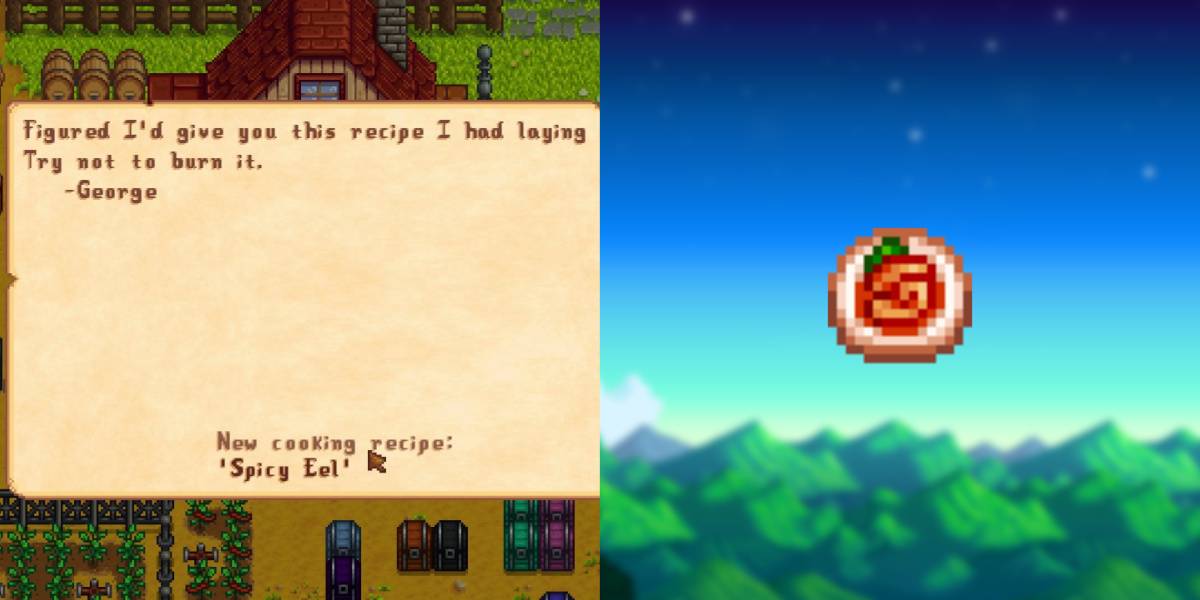 Ingredients:
Spicy Eel is a fan favourite when it comes to the best recipes to cook in Stardew Valley. For 7 minutes, it gives a +1 Luck boost and a +1 Speed boost. It also gives 115 Energy and 51 Health points to the person. Since it only has a few simple ingredients, it's cheap and easy to make.
When a player gets seven hearts with George, they can get the Spicy Eel dish sent to them in the mail. It can also be bought in different places, and people who want to sell it can make money from doing so. But when players go to Skull Cavern, they should make sure they have Spicy Eel with them.
Stardew Valley can be played on PC, macOS, Linux, PS4, Xbox One, Switch, and mobile devices right now.